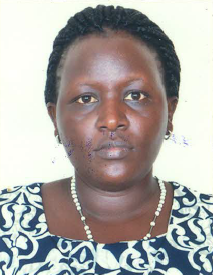 Bennadine has more than fourteen years' work experience covering records management, communication, public relations, library and publishing work. 
---
Amony Betty | Head of Unit
She previously worked as Business Development Manager with Local Links Ltd a last mile distributor of information and products to the most rural communities. She also worked with National Housing and Construction Company ltd first as Information Management Officer, and later, growing through the ranks to Head the Public Relations Unit. Prior to that, she worked with Faculty of Social Sciences, Makerere University as Assistant Records Officer. She has also had several private engagements in the area of Records Management, publishing and library work. She possesses people and change management skills.
Her areas of interest include; Information management, Communication, Public Relations and Administration. She is passionate about Human Rights specifically the right to information for people of all walks of life. Her dream is to see a society that values information and uses it in the right way, at the right time for the good of all. betty.amony@uhrc.ug