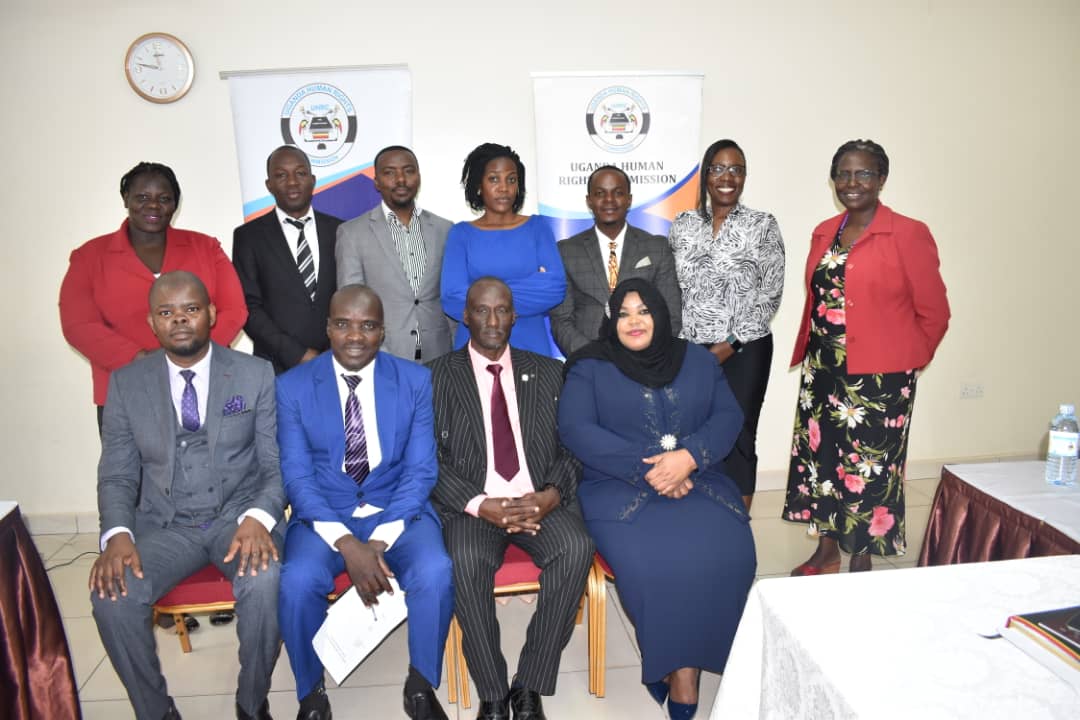 The Uganda Human Rights Commission (UHRC) has held a breakfast meeting with members of the Human Rights Committee of Parliament over the Human Rights Approach (HRBA) to issues. The meeting was opened officially by Commissioner Hon. Col. Steven Basaliza on behalf of the Chairperson Hon. Mariam Wangadya on Thursday (May 18, 2023).
"It is quite motivating to hold these discussions on human rights with Members of Parliament since, as an arm of Government alongside the Executive and Judiciary, it is very much a strategic duty bearer. The Committee is like the proverbial kitchen of Parliament on human rights matters. Membership to the Committee inevitably makes you human rights defenders. Therefore, we are confident that this intentional engagement will ultimately enable us realize the key objective and national aspiration of integrating human rights in all government policy, legislation, decision-making, planning, programming and implementation; which is a fundamental goal of the Uganda Vision 2040," Col. Basaliza noted. He informed the MPs that the Commission is independent and doesn't take orders from anybody.
"A case in point happened recently when the Chairperson summoned the Inspector General of Police (IGP) and indeed the IGP appeared. I request that you go and tell your colleagues that everything is being done behind the scenes to promote observance of human rights. As we speak, we are preparing our Annual Report on the State of Human Rights in the Country. Please read it and debate it," he said.
Director Byonabye Kamadi of Research, Education and Documentation whose directorate spearheaded this training held at Piato Restaurant appreciated MPs for taking time off their busy schedule to engage with the Commission. He said human rights must be fought for; they are not a given. He revealed that the Commission is already in the process of issuing a special report about the welfare and condition of service of security personnel.
In is reaction, MP Yona Musinguzi of Ntungamo Municipality (NRM) said he had specifically come to this engagement to challenge the Commission about the rights of the silent majority who were silenced in the law.
"As we all know, under the UPDF and the Police Acts the men and women in uniform cannot agitate for their rights or their remuneration. So what should we do? Do we need to amend the law?" he said.
On her part, Central Region Youth MP Agnes Kirabo (INDIP) said most of her constituents do not know their rights and do not know what to do when their rights are violated.
"I am aware of the challenges of resources that the commission faces but we need to devise means of making outreaches, think of ways in which we can take the human rights gospel out there. We also need to devise means of getting funds," she said.
Hon. Ekudo Tom Julius of Gweri County – Soroti (FDC) said as an MP on the Human Rights Committee he sometimes feels ashamed when things go wrong and wonders whether this country is putting human rights at the center of its planning and programs.
Commissioner Shifra Lukwago who closed this training said the Commission is ready to deliver on its mandate under the Constitution and encouraged MPs to support the Commission to enable it deliver. She appreciated the MPs for attending the engagement and wished them journey mercies.