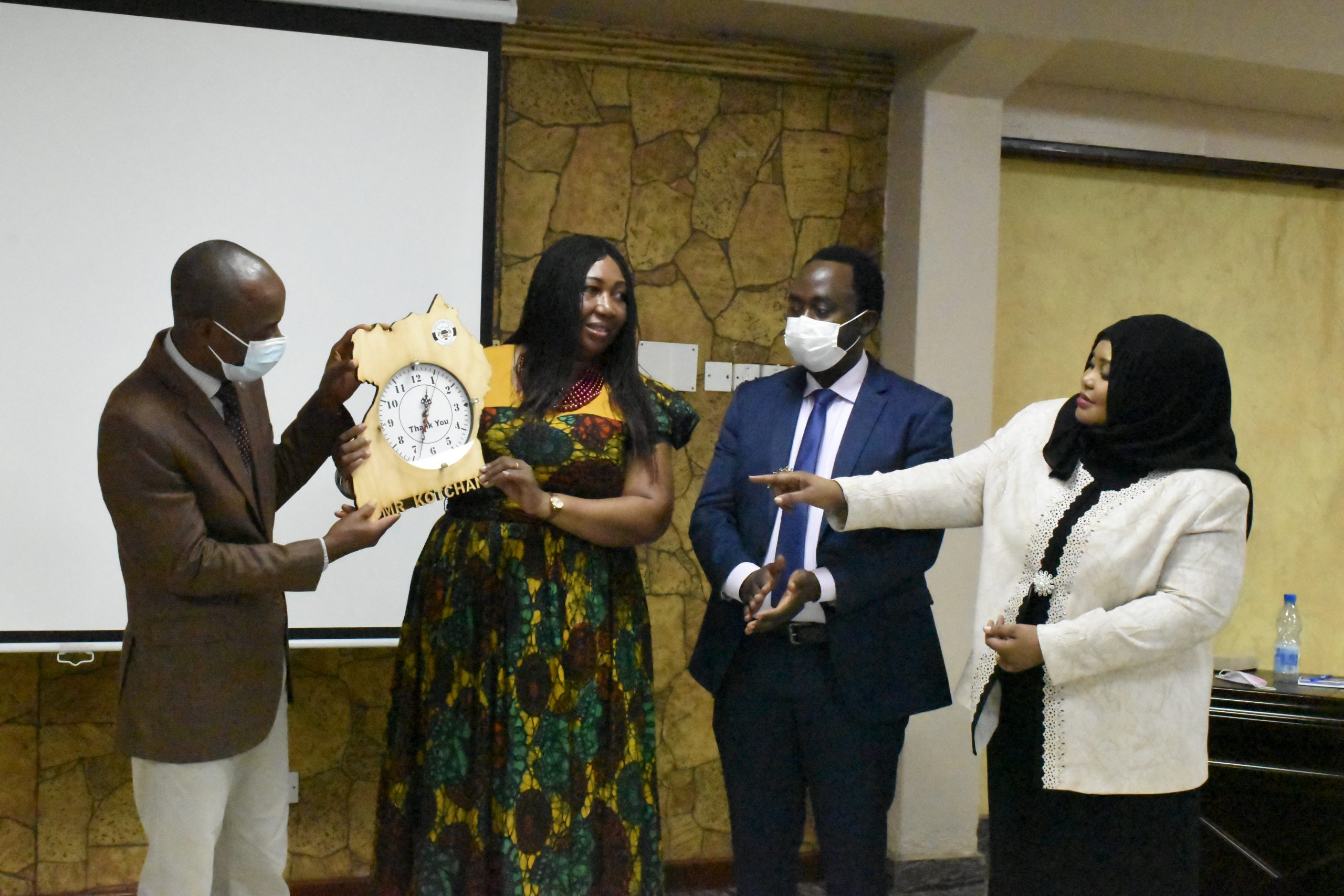 The Uganda Human Rights Commission (UHRC) organized a modest farewell function for the outgoing Country Representative of the UN Office of the High Commissioner for Human Rights (OHCHR) Mr. Robert Ayeda Kotchani.
Mr.  Kotchan will be leaving Uganda at the end of this month is headed to Dakar – Senegal for another Mission.
During a farewell function held at Hotel Africana on Thursday September 8, 2022, the Chairperson Hon. Mariam Wangadya described Mr. Kotchani as: "A man with enormous talent, a relentless advocate for Human Rights, an avid mobilizer yet so humble and polite."
"The news of your departure brings a sense of emotional attachment and a feeling of not wanting to let go yet the power to determine your course lies far beyond us. Your leadership has been so important to the protection and promotion of human rights over the past four years and to say you are irreplaceable is an understatement," Hon. Wangadya said.
Mr. Kotchan has been at the helm of the UN human rights agency in Uganda since September 2018. He has now been elevated to OHCHR Regional Representative in Central Africa overseeing human rights protection and promotion in more than 16 countries.
In his response, Mr. Kotchani revealed that though he is yet to know his successor, he will ensure the partnership and the good working relationship he has cultivated between OHCHR and the Commission continue.
"When I talk about Uganda, I get emotional because it was my first posting when I was appointed UN Country Representative and now I am heading into something bigger. All these praises I am receiving it is not because of me alone but because I had a team. Without that team you wouldn't see this success," he said.
During his reign, Mr. Kotchan has been able to mobilize a number of office equipment and tools for the UHRC offices including office furniture, computers, printers and other high-tech screens for monitoring human rights. He has also facilitated a number of activities including training of UHRC staff in monitoring the 2011 general elections, facilitating the monitoring, launch of the 22nd and 23rd UHRC Annual Reports among others. The Commission presented to him an artistically designed clock and vacuum cup.