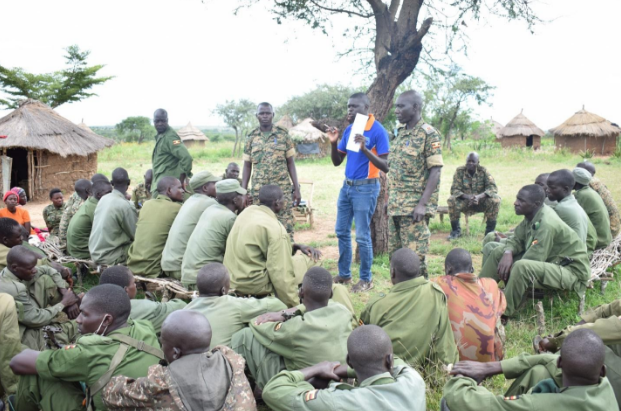 The Uganda Human Rights Commission, Moroto Regional Office concluded an eight-days training for Local Defense Unit (LDU) personnel in the districts of Kaabong, Karenga, Nabilatuk and Nakapiripirit, spread over the period from Tuesday September 1, 2020 to Friday September 18, 2020. The objective of the training was to enhance knowledge of and respect for human rights among the LDUs while in the performance of their lawful duties. The training was conceived against the backdrop of increased human rights violation by LDU personnel in Karamoja sub-region.
The training was jointly facilitated by officials from UHRC Moroto Regional Office and Uganda Peoples Defense Forces, 3rd Infantry Division, Moroto. The UHRC team was led by the Regional Human Rights Officer Mr. Christopher Ogwang, the Human Rights Officer in Charge of Education, Mr. Okangas Gabriel, while the UPDF team was led by Major Emori, the Brigade Political Commissar of UPDF 407 Brigade Nakapiripirit. Other officers from UPDF that facilitated the training were Captain Moses Ssentongo, the Brigade Counter Intelligence Officer, UPDF 403 Brigade in Kotido and Lt. Otto of 407 Brigade, Nakapiripirit.
The training focused on the concept of human rights, the minimum human rights standards that should be observed during law enforcement, the principles of the use of force and the role of the UPDF in the protection and promotion of human rights. During the training, the Regional Human Rights Officer, Mr. Christopher Ogwang emphasized the need for adherence to these human rights standards in the course of law enforcement. The UPDF leadership on their part welcomed the training, noting that it was timely given the fact that LDUs play a very important role in securing lives and property in Karamoja sub region yet their training period is always too short to engrain in them the skills required of them to avoid committing human rights violations. They requested UHRC to extend the training to all the districts in the sub region to cover all the LDU Units. 
The training which was possible with financial support from GIZ and was attended by a total of 434 soldiers, 394 of whom were male and 44 female. In Kaabong district, the training covered Sidok, Napeikodo, Kathile, Longoromit and Kakamar LDU Units, while in Karenga it covered Karenga and Kapedo Units. In Nabilatuk district, the training covered Lolachat and Lorengedwat LDU units while Namalu, and Nakapiripirit Units were covered in Nakapiripirit district.