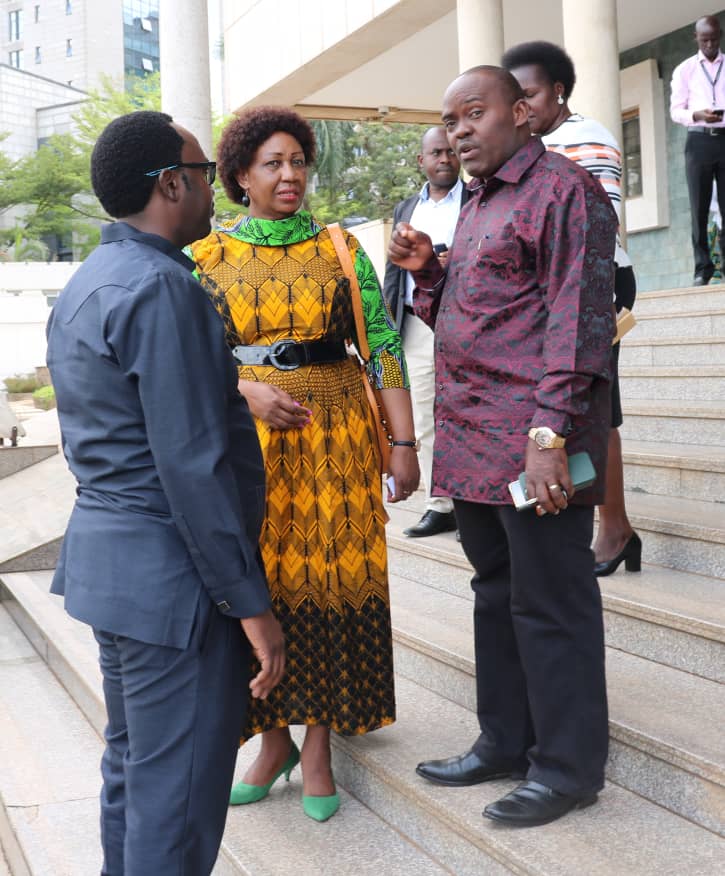 The Human Rights Committee of Parliament has received a report about the security situation in Karamoja sub-region from the Uganda Human Rights Commission (UHRC). The report presented by the Chairperson Hon. Mariam Wangadya on Thursday 20th April, 2023 detailed the Situation of Juveniles from Karamoja Sub Region who were detained at GULU Remand home. Photos of the said juveniles who are alleged to have been served while at the Remand home emerged on social media two weeks ago attracting the attention of Parliament.
In his introductory remarks, the Committee Chairperson Hon. Fox Odoi Oyellowo said that Parliament is concerned about the general human rights situation in the country but particularly Karamoja sub-region because of the endemic cattle rustling.
"We want to know whether you are doing particular work in that area and also about the situation of Juveniles who were recently released from GULU Remand home," he said.
The Committee also wanted to know more about a Member of the Commission Hon. Jacklet Atuhaire who was arrested and remanded on attempted murder charges following an incident at her home. "Taking into account last week events, whether that member is still of good standing in respect of article 54(2). What peer mechanisms do you have in place to deal with such circumstances," Hon. Odoi stated.
He informed the Commission that his committee has considered all it's (UHRC's) three past reports, they were debated in the house and his committee's recommendations were adopted.
Hon. Wangadya revealed what the 16 juveniles informed the Commission about their detention as bellow:
"That they were fed on very little portions of posho and beans and were forced to drink a lot of water (3 cups each) before they ate their food.
That at the time of their transfer from Kotido to GULU, they were detained with adults before being moved to GULU and that is when they contracted Tuberculosis," Chairperson Hon. Wangadya stated as read the report.
She said the Commission will continue to conduct investigations into this matter of the children which includes wailing a comprehensive medical report for each of them who are currently receiving medical treatment at Church of Uganda Health Center in Kotido and conduct further inquiries into the circumstances of Lokomolo Lomiat's (one of the juvenile's) death.
On the security situation in the sub-region, the UHRC Chairperson informed the Committee that the situation on the road has improved as no incidents of ambush or shooting have been reported for the period January 2023 to date on the Northern part of Karamoja (Kotido, Kaabong, Abim and Karenga).
"The Southern part especially between Lokapel junction and Nabilatuk recently had some isolated attacks on motorists by suspected warriors," she noted.
The Chairperson also addressed the committee about Commissioner Atuhaire whom she said is currently out on bail but hadn't reported for work. She said she had also not written any administrative memo to her.