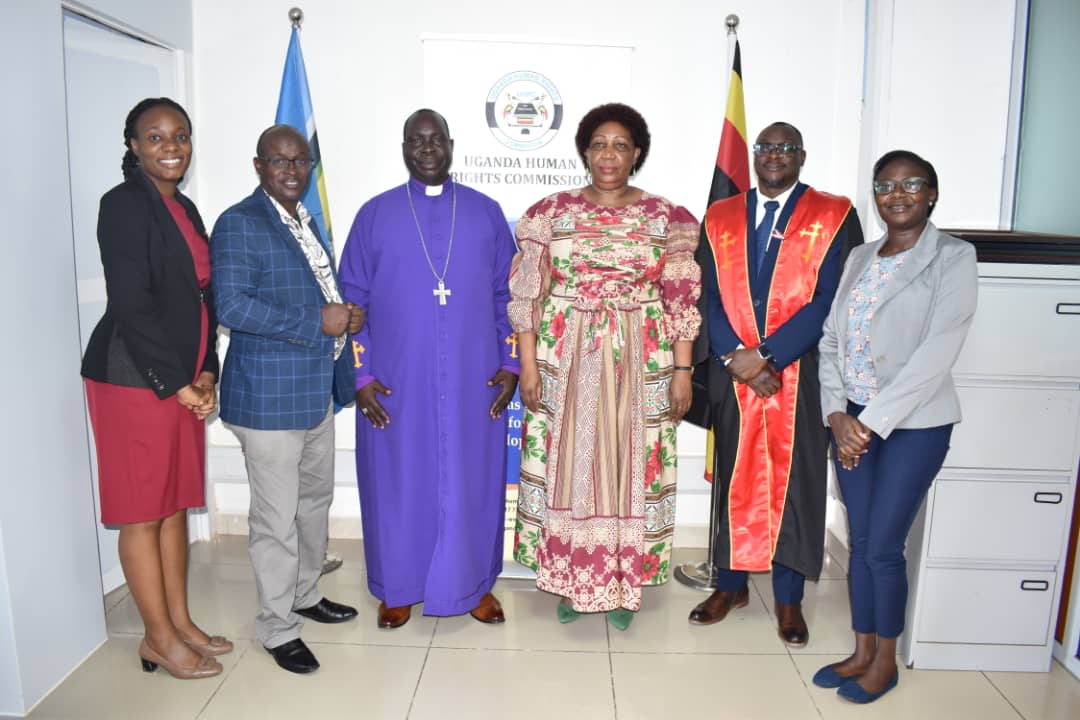 The General overseer of the National Fellowship of Born-Again Pentecostal Churches (NFBPC) Archbishop Moses Odong and the Chairperson Uganda Human Rights Commission (UHRC) Hon. Mariam Wangadya have signed a joint partnership on behalf of their respective institutions to protect and promote human rights.
The partnership was entered yesterday (Monday October 23, 2023) in the Office of the Chairperson at the UHRC headquarters on Plot 19 Rumee building, Nakasero – Kampala.
"This memorandum follows the findings in our Annual Report where one of the chapters (chapter 6) seems to pinch the Born-Again Churches. I wish to clarify to you your Grace that our intention was not to recommend that religious freedoms be curtailed as the right to freedom of worship is one of the cardinal rights in our Constitution. We believe that it is important to be proactive and put in place frameworks that protect our people from exploitation," the Chairperson said.
Earlier, she had requested the Archbishop to pray for the Commission that it may be looked at favourably by government and its partners in terms of funding. She also requested that each of the NFBPC 50 across the country continues to pray for the Commission.
"We look forward to a strong and fruitful partnership and we thank you Your Grace that you have been able to personally come here to witness this partnership. It is not every day that a government institution hosts Your Grace so it is a privilege for us," she said.
On his part, His Grace Odongo said the MoU will allow the NFBPC and the UHRC to strengthen their corporation and coordination throughout the country.
"We look forward to sharing information through organising joint meetings, inviting each other in each of our meetings and at key functions held by both our organizations and consult each other before reports are written so that we can share information about our roles," he said.
He further noted that he recognises the fact that one soiled finger can soil all the fingers so they have embarked on self-regulatory mechanism "to put our house in order and we believe signing this MoU is a step in the right direction."
"We have embarked a mission to reach out to all of those churches which are not affiliated to us because we are aware that their work affects all of us," he said.
He revealed that they are also strengthening their self-regulatory mechanism so that they are able to remain law abiding. The NFBPC spokesperson Bishop Magongo Richard said the MOU is to create awareness that we are disciplined people, we are law abiding people. "We don't want any church to be listed among human rights violators so if you identify a friend that is doing anything wrong, report to us so that we can work together and make sure we weed out the wrong elements that soil all of us," he said.