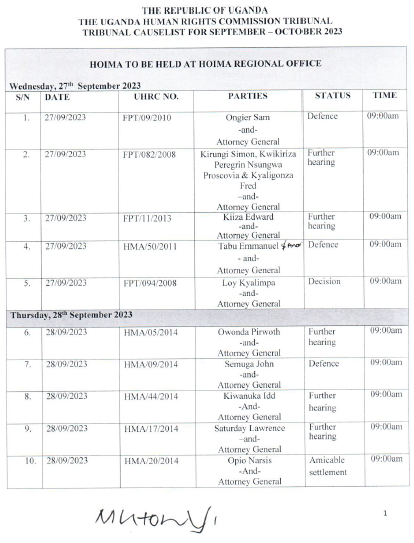 More human rights complaints have been lined up to be heard by the Uganda Human Rights Commission (UHRC) Tribunal in the months of September and October this year.
According to the Cause-list (Schedule) released by the UHRC Registrar Docus Monsimenta this week, a total of 29 complaints have been lined for hearing in the UHRC Regional Offices of; Soroti and Hoima. This Tribunal, which is chaired by the Chairperson Hon. Mariam Wangadya will first sit in Hoima UHRC Regional Office for three days, that is, Wednesday 27th, to Friday 29, 2023. It will handle 14 matters.
"During this session, the Commission will handle four matters at the stage of offering a defence (response against the allegations) by the Attorney General (government), six at the stage of further hearing (calling more witnesses) and four at the stage of decision-making (judgment)," the Registrar noted.
The second round of sessions will commence at the UHRC Soroti Regional office on Monday October 2nd to Wednesday October 4th, 2023 with a total of 15 complaints being handled. Of the 15, five are for further hearing and the rest are for the Attorney General (government) to present their defense (response) against the allegations. None of the cases to be handled in this session was filed against any person in their individual capacity.
Since June, the Commission has held two other session in July in the regional offices of Gulu on July 12th and Moroto. 12 and 15 complaints were handled respectively.
Under the new arrangement of handling tribunal sessions which began this year, the Chairperson chairs the sessions composed of herself and three members of the Commission. Currently, the Commission has a total of six Commissioners, namely; Hon. Crispin Kaheru, Hon. Simeo Hon. Muwanga Nsubuga, Hon. Lamex Omara Apitta, Hon. Shifrah Lukwago and Hon. Jacklet Atuhare Rwabukurukuru. Previously an individual Commissioner would sit and handle complaints at a regional office and make a decision. The decision made by the tribunal are appealable to the High Court of the Republic of Uganda.