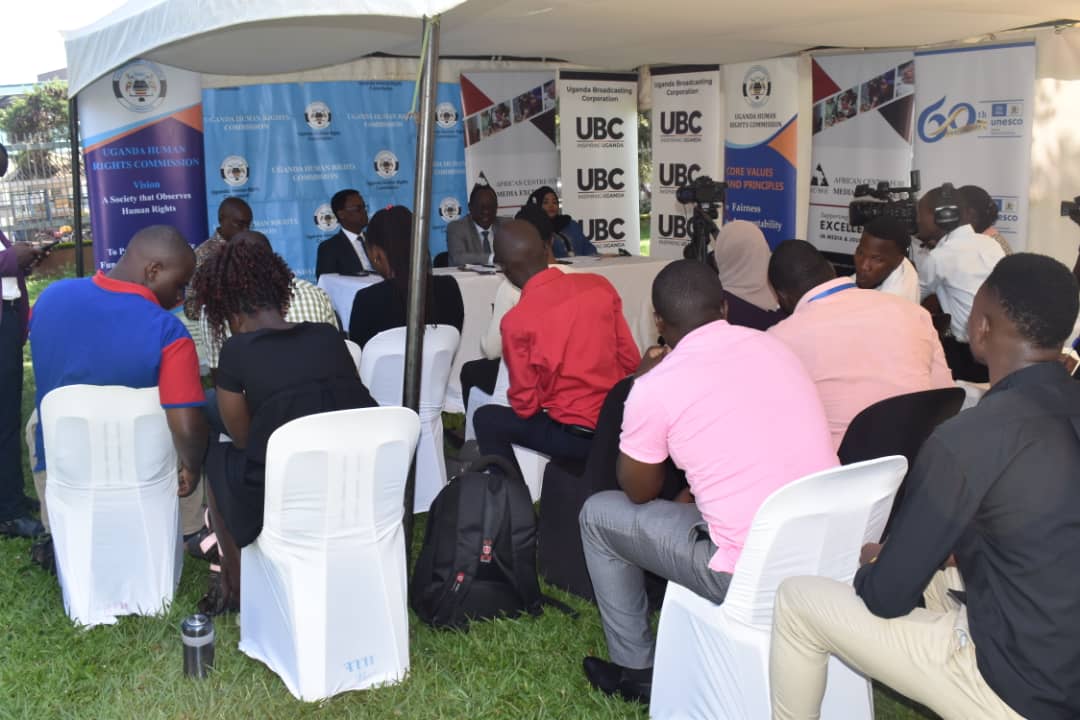 Uganda Human Rights Commission together with the Uganda Media Sector Working Group (USMWG) and other partners are joining the rest of the global community once again to commemorate this year's World Press Freedom Day. It is a day for nations to take stock of the progress made in implementing the commitments made in the human rights instruments to guarantee, protect and promote freedom of expression. It is my pleasure on behalf of the organisers of this year's World Press Freedom Day to welcome you all to this press conference which is the inaugural WPFD 2023 commemoration activity.
This year marks 30 years since the United Nations General Assembly proclaimed 3rd May as the World Press Freedom Day, for particularly advocating and defending the fundamental principles of freedom of opinion, speech and expression. It is also 30 years since the Vienna Conference and Declaration on the Programme of Action on Human Rights, as well as 75 years since the Universal Declaration of Human Rights (UDHR).
In line with the global theme, Uganda is marking WPFD under the theme: 'Protecting Freedom of Expression in Uganda as a driver for all other Human Rights'. The Commission, together with the UMSWG are spearheading this year's commemoration with other partners including: the Uganda Media Council, the African Centre for Media Excellence (ACME), Makerere University, and the African Centre for the Treatment and Rehabilitation of Torture Victims (ACTV). We would like, in a special way to recognise the support of Government of Uganda, the American Bar Association, Makerere University and the National Commission for UNESCO for the support towards these commemoration activities.
The critical importance of freedom of expression, which includes press freedom, has been duly recognized at the international level under Article 19 of the International Covenant on Civil and Political Rights. In interpreting Article 19, the Human Rights Committee stated in General Comment No.34, that press freedom is a cornerstone of any democratic society and therefore a free, uncensored and unhindered press or other media is essential in any society to ensure freedom of opinion and expression and the enjoyment of other rights. This recognition has also been made at regional and national levels.
The World Press Freedom Day offers human rights defenders and other stakeholders worldwide an opportunity to evaluate progress and enhance the advocacy for an environment in which freedom of speech and expression, media freedoms and indeed media responsibility, become the bedrock for achieving democracy, human rights observance and development in respective countries.
The global theme this year is: 'Shaping a Future of Rights: Freedom of Expression as a driver for all other Human Rights'. It is a recognition of the pivotal role that freedom of expression and therefore media freedom plays as an enabler of all other human rights. It also underscores the indivisible, interdependent and interrelated nature of all human rights. It is my hope that today we will strategise and synergize ways to enhance freedom of expression and media freedom. Without the freedom to express oneself, a person cannot be able to protect, promote and claim their own rights nor the rights of others. Media freedom lifts the cloak of darkness that often engulfs human rights abuses. When rights and freedoms are at risk, so will be peace, security, democracy and sustainable development.
Press and media freedom is part of the wider freedom of expression of everyone. This symbiotic relationship means that the media should be actively concerned about the freedom of expression of everyone, just as everyone should in turn get concerned at any undue restrictions on press and media freedom, including attacks on media.
Uganda signed and ratified the ICCPR, which it subsequently domesticated by entrenching their provisions into the Constitution and other legal frameworks. Efforts have been made at policy, legal and institutional level to provide for and ensure protection of press freedom in Uganda. Some gains have been made, although there are still some challenges to the full realisation of press freedom in Uganda.
A number of commemorative activities including this press conference, a public dialogue and a media campaign, have been lined up. Through these, attention will be drawn to the current situation of the media; the safety of journalists; the emerging issues in the sector and space occasioned by politics, development processes and technology such as the privatization and commercialization of the media, the ICT miracle of real time information flow but also the current epidemic of fake news and the 'info-demic' phenomenon (disinformation, misinformation and mal-information); the impact of socio-cultural disposition of rights holders and duty bearers on media freedom; and the synergies that media and civil society can exploit to protect press freedom. The Day's conversation will emphasise media responsibility as well as the duty of every rights holder of freedom of expression (and just the media stakeholders), to get interested and participate in all processes for enhancing protection of press and media freedom.
Ultimately, the WPFD engagements and discussions will contribute to interventions for improving the policy, legal and institutional framework for the realisation of the freedom of expression generally, and in particular, press and media freedom in Uganda. In effect, this will improve the enjoyment of all other rights.
This year's Commemoration Activities:
The commemoration includes pre-event activities and those on the Day to be marked on Monday 3rd May 2023.
1. The flag-off press conference which we are holding today, Tuesday May 2nd, 2023, here at UBC grounds. This is to enable us communicate the theme and the planned activities; contextualize the events; and explain the symbiotic relationship between press freedom and the freedom of expression of everyone.
2. Public Dialogue on 3rd May 2023. This will be held at Golden Tulip Hotel – Nakasero as a half-day event to provide a platform for discussions of the critical issues affecting freedom of expression and media freedom. The Panelists comprise media owners, policy makers and media practitioners of longstanding repute. The day will be crowned with an award ceremony for eminent persons who have made extraordinary contribution to the media sector and press freedom.
3. Media Campaign; This a cross-cutting activity aimed at ensuring that the conversation about the day and media freedom as a whole is sustained beyond the main commemoration event. The partners will utilise legacy, digital and multimedia channels to popularise and advocate for the importance of this day.
As partners to this year's commemoration, the Commission is mindful of the increasing lack of professionalism, inadequate training, unethical conduct, coupled with poor working conditions and inadequate remuneration for journalists which have negatively impacted on the quality of journalism not just in Uganda but in many other parts of the world.
We have also noted the increasing use of force on media practitioners in the course of their duties which has caused injury to the victims, loss of property and equipment.
These happenings are particularly of concern to us because the Commission has over the years spearheaded the training of media practitioners as well as law enforcement and security officers to promote observance of human rights in the course of work. In the period 2021-2022, the Commission trained 1,107 security agents and media practitioners. Non-State actors including CSO, NGOs, private educational institutions, among others, have also contributed to these training efforts. We also are grateful that the Human Rights Committee of Parliament considered and adopted the Commission's Annual reports on the state of Human Rights in Uganda, a part of which covered media freedom.
Call for Action
Therefore, we call upon all agencies of Government that have cases involving abuse of media freedom and freedom of expression to expedite them so that justice can be served with the culprits facing punishment in accordance with the law, and victims getting their due compensation. In the same breath we continue to call for better media accountability and responsibility; for media practitioners, whether professionals or not; whether on traditional or social media, to always respect human rights in their work. The accountability structures for media regulation, both statutory and self-regulatory, must be strengthened to effectively protect freedom of expression of everyone, enforce media responsibility by dealing with abuse and violation of rights in media work without fear or favour.
..………………………..                                        ………………………. …………………………………….
CHAIRPERSON                               INTERIM COORDINATOR CHAIRPERSON
UHRC                                                  UMSWG MEDIA COUNCIL OF UGANDA