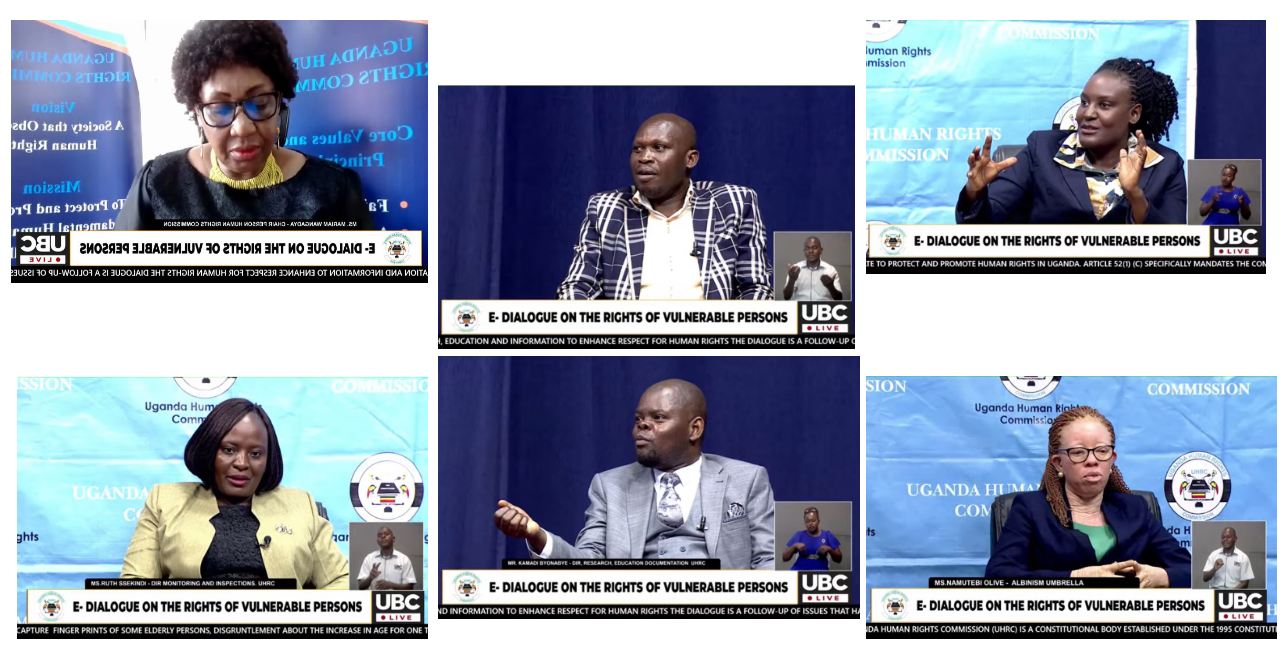 The Uganda Human Rights Commission (UHRC) has today (March 30, 2023) held an electronic Public dialogue (e-dialogue) and discussed the salient human rights issues that affect vulnerable persons. The dialogue which has been live on Uganda Broadcasting Corporation Television (UBC TV) from 9:00am to 11:00am was officially opened by the Chairperson Hon. Mariam Wangadya.
"The rights of vulnerable persons are still violated and abused, mainly due to the attitudes towards them and discrimination influenced by cultural traditions and practices that ignore their human dignity; disempowerment especially through lack of information and sometimes charity interventions that aren't sustainable. Sometimes it's outright impunity," she said in her remarks she made via zoom application into the UBC studios. "We are holding this dialogue today to continue the conversation on how to enhance the conversation on observance of human rights that does not leave vulnerable people behind."
She said anyone can be vulnerable depending on the threat or risk at hand so it is important to approach the discussion [about vulnerable persons] with empathy and understanding because "we could be unknowingly improving the situation for ourselves or our loved ones in future."
The first panel was composed of the UHRC Director Research Education and Documentation (RED) Mr. Byonabye Kamadi whose directorate organized the dialogue, the Country Representative, Help Age International Ms. Emilly Kemigisha and Ms. Olive Namutebi from Albinism Umbrella. On the other hand, the second panel was composed of Director Monitoring and Inspection, UHRC Ms. Ruth Ssekindi, Mr. Odwar Dennis, the Manager Policy and Rights at National Union of Disabled Persons (NUDIPU) and Ms. Emily Ajambo, the Assistant Commissioner, Disability and Elderly in the Ministry of Gender, Labor and Social Development.
Director Kamadi said: "Everybody should be working for his children their grandchildren and their old age as well. The cycle of poverty becomes vicious if we don't plan for now and for the future generation." He said this will avert vulnerability when one becomes old and also vulnerability of one's children or grandchildren.
Ms. Namutebi said education is very important for children but it is paramount for children with albinism and the disabled. "Can we create a safe environment for them to learn? When you go to hospitals, the health workers do not want to touch you because you look different. Can you give us the services when we come to the hospitals?" she said.
On her part Ms. Kemigisha wondered why the laws have provision to punish a parent who does not take care of his/her child and yet there is none to punish children who do not take care of their elderly parents. "Children should be able to take care of their older parents. You should be able to send money to them periodically without being asked," she said.
Director Ssekindi noted that there is stigma around age. "Many people take older persons as people without choice. We were very happy about the Social Assistance Grant (SAGE), unfortunately it is limited to the age of 80 and it's not covering the whole country and we have very many people at the age of 70 especially in the rural areas who are really struggling and need that 20,000 to be supported. We request that can you (government) to reduce the age to 60 so that we have another bigger part of people benefitting."
Mr. Odwar said there has been progress in realizing the rights of people with disability through the prevailing legal framework and policies and appreciated government for it. "However, we want to see learners with disabilities in the same class with those without to avoid discrimination and we support them to learn at the same pace," he said.
On behalf of Ministry of Gender, Assistant Commissioner, Ajambo first listed the various forms of disabilities and how her ministry categorizes older persons before revealing the efforts her ministry is doing to elevate vulnerability.
The dialogue was intended to identify the mechanisms in place for ensuring the observance and enhancement of the rights of vulnerable persons and to empower the masses especially the different categories of vulnerable persons to be able to speak out and demand for their rights and be able to effectively participate in decision-making processes at all levels