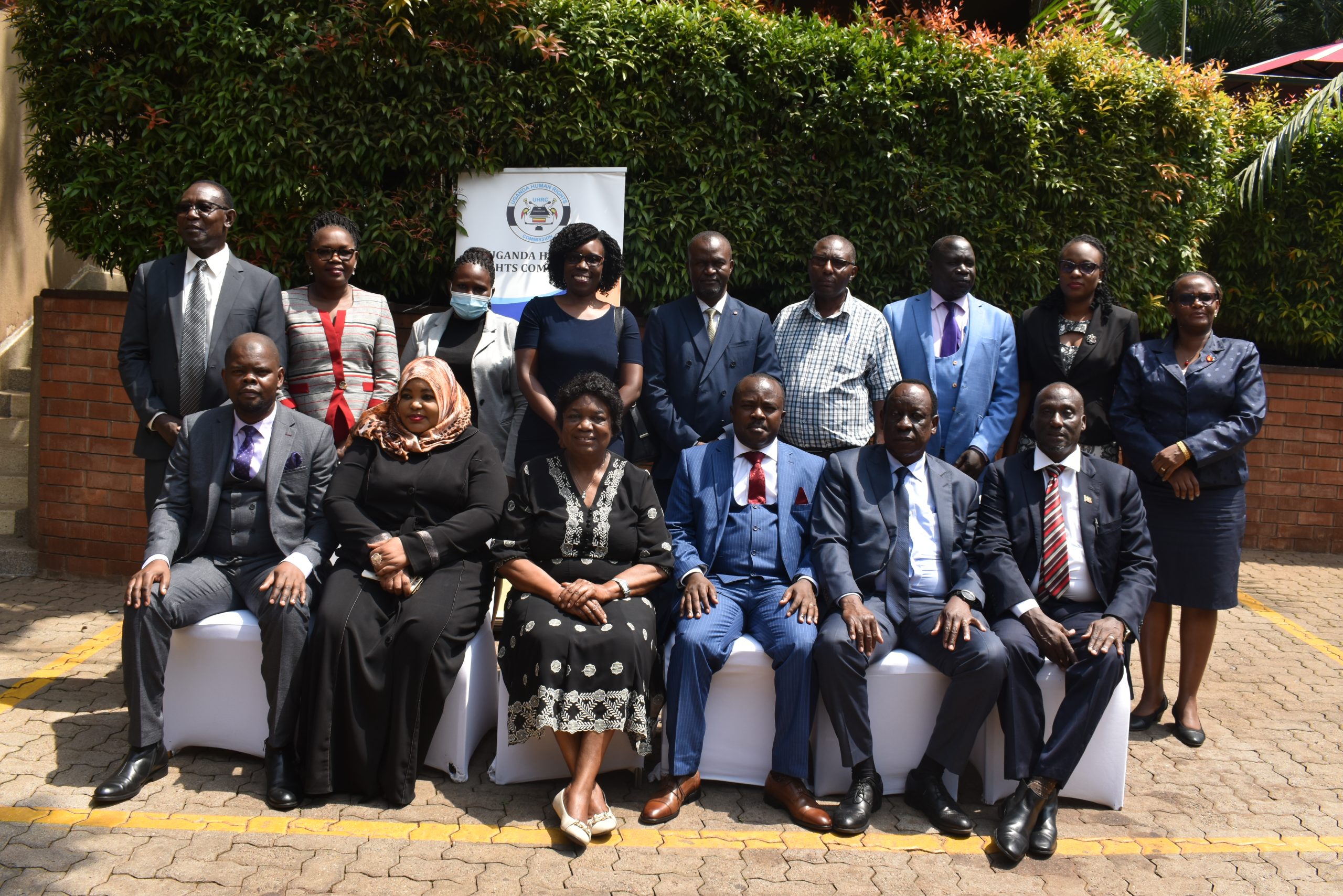 The Uganda Human Rights Commission (UHRC) has completed a two-day induction exercise for its three members who were recently sworn-in by the Deputy Chief Justice Richard Butera.The three namely Col. Steven Basaliza, Hon. Simeo Muwanga Nsubuga and Hon. Lamex Omara Apita were taken through different inductive sessions which were conducted on Friday January 13 and Monday January 16, 2023.
While opening the session on Friday at Piato Restaurant in Nakasero – Kampala, the Chairperson Mariam Wangadya underscored the need for teamwork. "I exercise an open-door policy so please, feel free to approach me any time. You can also reach me through my phone any time of the day up to 9:00pm," she said.
The same need for team work was re-echoed by UHRC Chairperson Emeritus Margaret Sekaggya who also urged the new members to be mentors to the staff and to each other so that they leave a good mark in the Commission. "Avoid cliques, rumors and above all respect authority. Be problem solvers and ensure that the Commission speaks out on all the human rights violations that go on in country," she counseled.
In addition to the remarks by the two Chairpersons, the new Members of the Commission were briefed by the different Heads of Directorates that make up UHRC namely the Directorate of Research, Education and Documentation; the Directorate of Monitoring and Inspections; that of Complaints, Investigation and Legal Services; Finance and Administration; and that of Regional Services.
Different Units like Planning, Public Affairs, Procurement, Internal Audit, Human Resource, Systems and Transport Unit also presented to the new Commissioners giving highlights of their functions and on and how they feed into the mandate of the Commission.
Director Kamadi Byonabye who represented the Secretary to the Commission and Accounting Officer at the training lauded the new Members of the Commission for sitting through all the sessions and for making the presentations interactive with their insightful contributions.
While closing the training on Monday evening, Commissioner Shifrah Lukwago who represented the Chairperson implored the members to take off time to internalize the newly new UHRC Five-Year Strategic Plan given to them by the Commissioner Planner Mr. Charles Mukasa to enable them acquaint themselves with the current strategic direction of the UHRC.