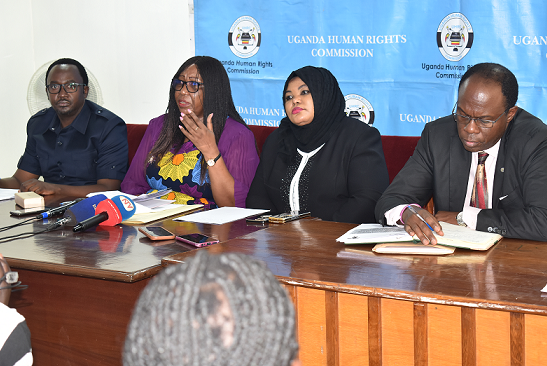 The Uganda Human Rights Commission (UHRC) together with the Coalition Against Torture (CAT) have ended a week-long series of commemoration activities for the UN Day in Support of Torture Survivors. The Commemoration was crowned today with an optimally attended National Public Dialogue at Golf Course Hotel – Kampala. The activities commenced on Monday June 20th, 2023 with a joint press statement issued by the Chairperson Hon. Mariam Wangadya in the presence of the CEO African Centre for Treatment and Rehabilitation of Torture Victims (ACTV) Mr. Samuel Herbert Nsubuga, Hon. Commissioners; Crispin Kaheru, Omara Apitta and Shifra Lukwago.
"Despite having in place a comprehensive legal framework against Torture, it remains an issue of national concern in as far as prohibition and accountability is concerned. There is a significant number of 767 cases of torture by private individuals from 2018- 2021 arising from mob violence, land disputes among others as reported by ACTV in its Annual Reports. Actually, civilians commit the worst forms of torture," the UHRC Chairperson stated as she read out the joint statement. She reasoned that it is civilians who lynch people suspected of stealing small things like chicken, burn children fingers over small issues like losing Shs200 or subject children to worse forms of degrading treatment by throwing them in pit latrines. Mr. Nsubuga who is also the Chairperson CAT gave the Luganda version of the statement.
The Commemoration has run under the theme: "Stop Torture, Rebuild lives of Survivors for Sustainable Development"
"This year's commemoration is part of the routine reflection mechanisms during which we assess the progress made, challenges faced and set goals towards the realization of our targets in the protection and promotion of human rights and freedoms especially freedom from torture, cruel, inhuman and degrading treatment or punishment," reads in part the joint UHRC-CAT statement that flagged off the commemoration activities across the country.
After the statement, the UHRC and partners proceeded to have a Commemoration football gala at Kitukutwe Playground in Kira Division – wakiso district. Hon. Wangadya again flagged off the football gala which had four teams consisting of; UHRC and CAT, Torture Survivors, Kitukutwe Community Brother and a team of journalists. The UHRC/CAT team emerged third at a competition that was won by our media stakeholders.
"This gala has been intended to raise awareness about torture, and the value of timely reporting and sending a positive message to all those still nursing psych-social problems as a result of torture that actually one can be rehabilitated and can return to normal life to the extent of playing great football like the one we have just witnessed today," she stated in a short speech before handing over the presents to the winning teams and the trophy to the overall winners.
The Coalition and the UHRC then moved to Golf Course Hotel yesterday (Monday June 26th, 2023) where a dialogue focusing on the UN CAT recommendations was held under the theme: "Promoting Peaceful and Inclusive Societies critical for Torture Prevention and sustainable development in Uganda."
The Board Chairperson of ACTV Hon Livingstone Okello Okello who was represented by Ms. Rosette Meya Sayson gave the welcome remarks tracing the 30-year journey of the organization before recognizing Ms. May Nsamba a wife to the founder of the organization. She then invited the Head of Mission, Kingdom of Netherlands who was also represented by Ms. Grace Babihuga. She particularly pledged the embassy's continued support to the organization and all efforts geared at promotion the observance of the freedom from torture, cruel, inhuman and degrading treatment or punishment.
Commissioner Hon. Crispin Kaheru, who represented the Chairperson UHRC was categorical that sometimes torture is bread by impunity and the long period that cases take to be resolved. "The National theme for this year; "Stop, Rebuild lived of Survivors for Sustainable Development is instructive. It is a clarion call for all of us here and out there to take action. It is not only government but rather each one of us to take action meant to stop torture," he said in a speech he read on behalf of Hon. Wangadya.
After the speeches, the dialogue was officially opened with a panel composed of the Uganda Human Rights Commission, represented by Director Monitoring and Inspection Ms. Ruth Ssekindi, the director Legal at the Criminal Investigations Directorate Mr. Isaiah Igumira, the Deputy Head of Human Rights Department Mr. Alex Bagada and Hon. Wildred Niwagaba (MP. Dorwa Wast) who presented the Prevention and Prohibition of Torture Bill way back in 2012 before parliament and it has since become a law. This law apportions individual criminal responsibility on anyone found to have committed torture, inhuman or degrading treatment.
As the National Public Dialogue was going on, our regional office in Gulu and partners there were also conducting a community Dialogue with a medical, legal psycho-social camp. Also in Kwen, Bukwo and Kapchorwa were concurrent community barazas. These barazas are to proceed with this eastern part of the country up to June 29th. A number of Radio Talk shows were also booked; on Radio one, hosting the ACTV and UHRC in the evening of June 26th in Kampala. Upcountry talk shows were on; Rupiny radio, Radio Pacis and Flavor Fm in Gulu, Radio 9 in Bukwo among others. There were also spot messages on NBS TV, CBS and K-fm radio stations as well as publication of a supplement on the day in the New Vision newspaper.