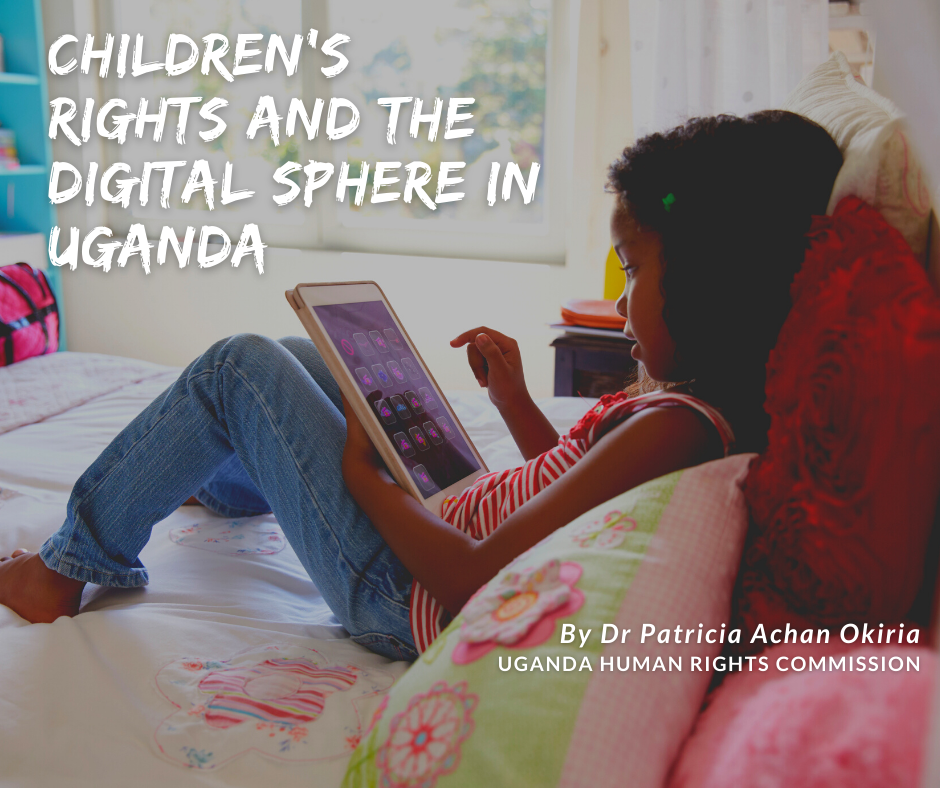 The lives of our children has lately been reshaped by the digital technologies which have resulted into new opportunities and at the same time posing risks to their well-being and rights. This paper reflects on the impact of digital technologies on children's rights through the lens of the Computer Misuse Act (2011) and the Anti-Pornography Act, 2014. Up until now, not all rights have received the same level of attention in the digital context.

Legal and policy discourse in the area of children and digital media predominantly should focus more on "protection" rights, albeit with a growing awareness of the tension between "protection" and "participation" rights. "Provision" rights are not often emphasized, other than in the important domain of education. However, all children's rights should be supported, valued, and developed in both online and offline spheres of engagement in Uganda.

Technological advancements and access to internet have shaped the overall development of global economies. In the last two decades, there have been growing concerns with regards to the interaction of technology with people within human rights discourse. This discourse acknowledges the positive contributions of technology, such as those that enhance certain protections and guarantees, as well as those that facilitate human rights violations in other respects.

Since the outbreak of COVID-19 children are most of the time involved in online classes, conducting research online and submitting assignments. It is estimated that one in three internet users worldwide is a child and that one in three children have access to internet. Further and perhaps the most worrying statistic is that 'the number of online activities in which children engage, the digital skills they develop and the online risks they encounter all increase as children get older'. This is contrary to the common logic within the child rights discourse which posits that the capacities of children to handle complex issues evolves, and therefore vulnerability to harm decreases with age. This reality raises concerns about the protection of children in the digital sphere and the measures that states should take to address key challenges posed by children's access to ICT devices and the internet.

The narrative regarding the protection of the privacy rights of children in the digital era naturally and in light of the risks involved has tended towards a protectionist and reactionary approach. Internet users, regardless of age, face pronounced privacy risks, but children are more susceptible.
When children engage in online activities, their personal data is collected, either voluntarily or automatically, with little regard for the implications of sharing such personal information for their privacy in the short and long terms. Yet, these risks coexist with a need to promote children's access to internet and technology as a necessity for their learning, development and general relevance in the 21st century and beyond. The need for an enabling regulatory legislative and policy framework for this purpose is therefore clearly evident.

The notion to protect children online is new in Uganda and a few citizens are certainly not taking precautionary steps to provide safe online spaces for children. The legal and regulatory frameworks that exist are inadequate in addressing children online safety as illustrated below:

Although the Computer Misuse Act (2011) proposes tough measures for anyone who indulges in child pornography. According to Section 23, A person who (a) produces child pornography for the purposes of its distribution through a computer; (b) offers or makes available child pornography through a computer; (c) distributes or transmits child pornography through a computer; (d) procures child pornography through a computer for himself or herself or another person; or (e) unlawfully possesses child pornography on a computer, commits an offence.

The act defines a child as "a person under the age of eighteen years". Other areas concerning child online safety like cyber stalking, cyber harassment and offensive communication are also addressed in the act but offences are generalized, which leaves perpetrators to prey on children both online and offline. Those found guilty of cyber harassment are liable on conviction to a fine not exceeding One Million Four Hundred and Forty Thousand Uganda Shillings.

According to the Law, Cyber harassment is the use of a computer for any of the following purposes (a) making any request, suggestion or proposal which is obscene, lewd, lascivious or indecent; (b) threatening to inflict injury or physical harm to the person or property of any person; or (c) knowingly permits any electronic communications device to be used for any of the purposes mentioned in this section.

The people who commit the offense of 'Offensive communication' are liable upon conviction to a fine not exceeding Four Hundred Eighty Thousand Uganda Shilling or imprisonment not exceeding one year or both. Offensive communication according to this act is the willingly and repeated used of electronic communication to disturb or attempts to disturb the peace, quiet or right of privacy of any person with no purpose of legitimate communication whether or not a conversation ensues.

The Law also criminalizes the use of electronic communications to harass another person or make a threat with the intent to place that person in reasonable fear for his or her safety or to member of that person's immediate family under Section 26. Those found guilty of this offence are liable conviction to a fine not exceeding Two Million and Four Hundred Thousand Uganda or imprisonment not exceeding five years or both. However, penalties are deemed lenient as evidenced in 2012 when a court case that saw a tourist charged for committing offences under the Computer Misuse Act (2011).

Further, the Anti-Pornography Act, 2014 proposes even tougher penalties for perpetrators of child pornography. Section 14 (1) states that 'A person who produces, participates in the production of, traffics in, publishes, broadcasts, procures, imports, exports or in any way abets pornography depicting images of children, commits an offence and is liable on conviction to a fine not exceeding seven hundred and fifty currency points (Fifteen Million Uganda Shillings)or imprisonment not exceeding fifteen years or both.'

In conclusion, Government, parents, educators, industry, civil society, and children's rights activists should all take up their responsibility to enhance children's rights in relation to digital technologies while actively listening and taking account of children's views when developing laws, policies, programs, and other measures in this field. Children should be taught how to adopt healthy online practices. They should not post any personal information online like your address, email address, or mobile number, they should think carefully before posting pictures or videos of themselves, keep privacy settings as high as possible and never give out their passwords.
By Dr Patricia Achan Okiria