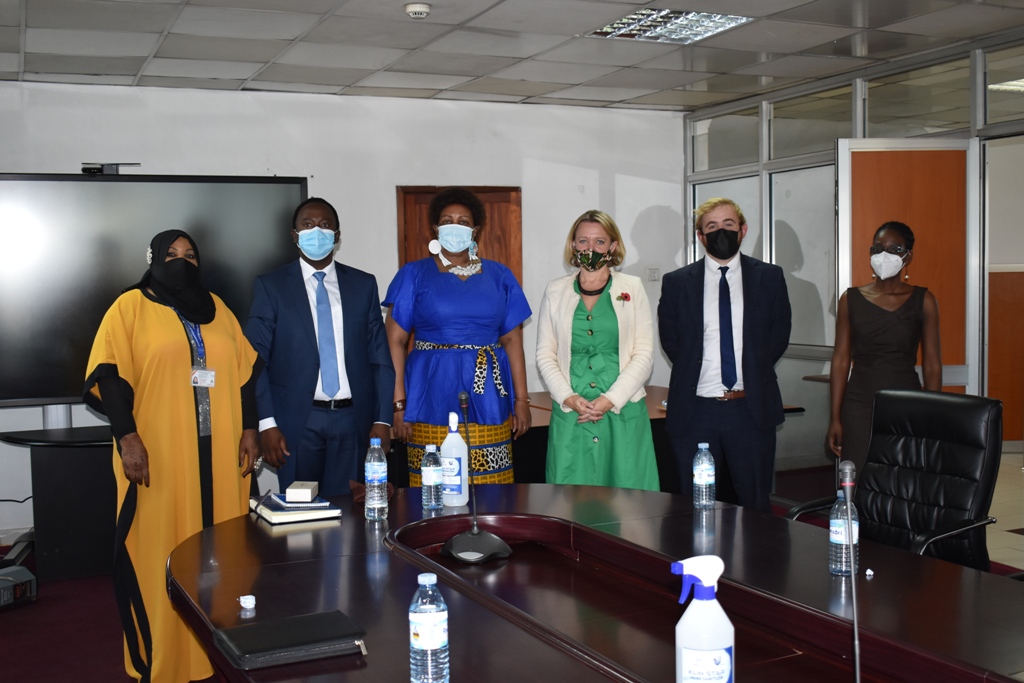 The British High Commissioner to Uganda appealed to the Uganda Human Rights Commission (UHRC) to be a torch that shines as an example in upholding human rights in the country.
During her maiden visit to the newly constituted Commission on Wednesday November 10, 2021, H.E Kate Airey appreciated the new UHRC Chairperson's work in human rights and anti-corruption agendas over the years. She therefore congratulated the Chairperson and Members of the Commission upon their recent appointment to the Commission. The High Commissioner however, highlighted a number of areas which the new Commission needs to spotlight and specifically pointed out the alleged human rights violations arising from the November 2020 riots which happened during the Presidential campaigns.
H.E Airey who was accompanied to the Commission by two other officials namely Simon Harris in charge of International Politics and the Human Rights Desk Officer Ms. Leah Ssepuya was received at the Uganda Human Rights Commission Head Office on Twed Plaza, Lumumba Avenue, by the new Chairperson Ms. Mariam Wangadya together with Commissioners Crispin Kaheru and Shifrah Lukwago.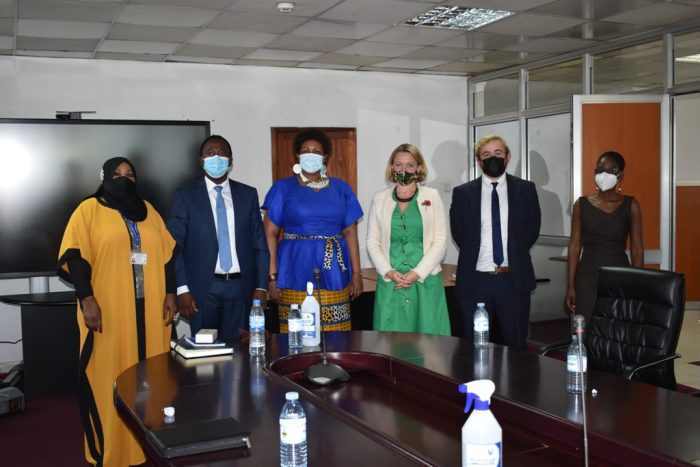 Speaking during the interaction, the UHRC Chairperson said she recognized Uganda's longstanding historical relationship with Britain, "which we cherish and hope to benefit a lot from." She also shared with the visitors her vision for the Commission which includes strengthening its capacity; improving its visibility, accessibility of services, responsiveness to emerging human rights issues; and resource mobilization. Other major areas of focus in her vision for UHRC mentioned were strengthening partnerships with state and non-state actors; intensifying civic education; and continuous monitoring of the human rights situation in the country. She was optimistic that the Commission will achieve the outlined vision through its different directorates through which it executes its various constitutional functions in fulfillment of its overall mandate. The Chairperson also pointed efforts by the Commission to leave no one behind through its deliberate focus on the rights of vulnerable persons.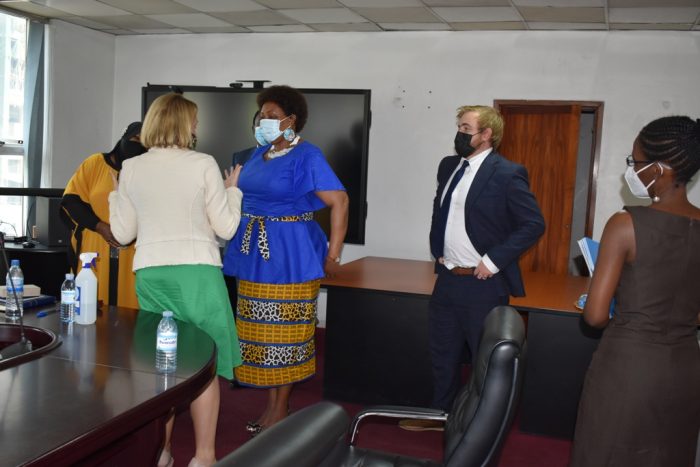 "We have the Vulnerable Person's Desk which handles issues of vulnerable persons who include indigenous persons, children and minorities among others. The Commission also carries out monitoring and investigations of issues of vulnerable persons in the country," she said.
Responding to concerns on the November 2020 demonstrations, the Chairperson revealed that investigations by the Commission into the human rights violations arising therefrom were in advanced stages and findings will be publically shared in due course.
On his part, Commissioner Crispin highlighted the presence of a Human Rights Defenders Desk at the Commission which he said was being strengthened to cater for the needs of Civil Society Organisations (CSOs). He therefore urged CSOs to take full advantage of the Human Rights Defenders Desk which he said was a link between the Commission and CSOs.
The other Member of the Commission present at the meeting Commissioner Shifrah Lukwago alluded to the challenges faced by the Commission in executing its mandate, particularly the inadequate funds to hold tribunal hearings.
The visiting High Commissioner promised to support the Commission in advocating for more funds to enable it effectively deliver on its mandate