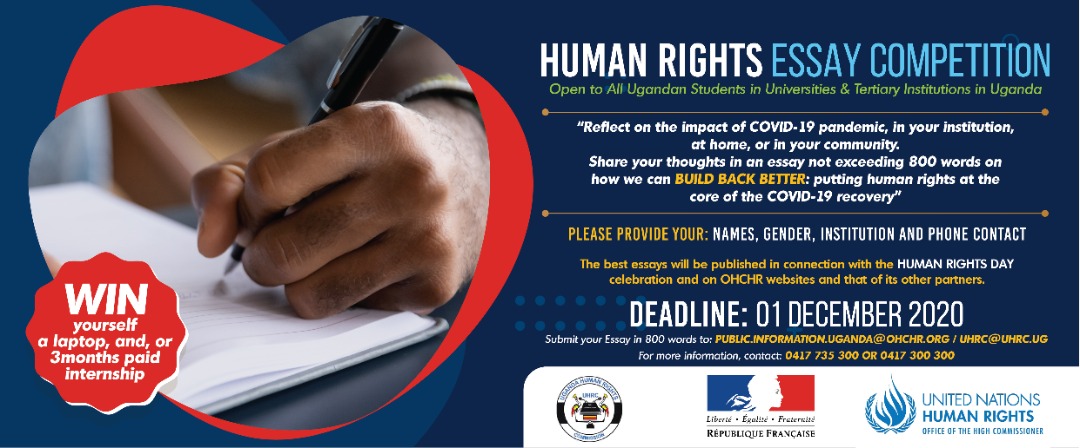 The Challenge: "Reflect on the impact of COVID-19 pandemic in your institution, at home, or in your community. Share your thoughts in an essay not exceeding 800 words on how we can build Back Better; putting human rights at the core of the covid-19 recovery in Uganda"
Entry Requirements – Entry is open to Ugandan students in universities and tertiary institutions in Uganda. The submission deadline is: 1 December 2020.
Timelines
17 November 2020: Launch the Essay Competition on social media platforms, in three national newspapers.
17 to 20 November 2020: Constitute panel of judges, terms of reference for the panel, agree on award criteria. Panel to include: 1) Uganda Human Rights Commission (UHRC), 2) Human Rights Center – Uganda (HRC-U), 3) Embassy of France in Uganda, and 4) United Nations Association of Uganda (UNAU) – representing the youth voice.
1 December 2020: Submission – by email to: public.information.uganda@ohchr.org deadline
2 and 3 December 2020: Shortlist of essays to submit to the Panel of Judges
3 and 4 December 2020: Marking and grading.
7 and 8 December 2020: Winners are notified
10 December 2020: Winners announced at Awards Ceremony live on national television.
Awards and the Criteria

There will be an award for the best two essays, which will also be published on OHCHR websites and those of its partners. Essays will be judged on the level of knowledge and understanding of the relevant material or question, the quality of argument, the structure/outline and presentation, writing style, persuasiveness and adhering to the guidelines of the competition. The two overall winners – female and male – who may happen to be in their last semester of study, will receive a laptop and a possibility of a three or six months internship placement with OHCHR or another UN entity, or Embassies or the Uganda Human Rights Commission (UHRC). And if not in their last semester of study, they will each receive a laptop, and so will be the two female and male runners-up who will receive a laptop and award of a certificate of participation.